Joe Massey's Agents Unfair Advantage Program: The Future of Real Estate Marketing
Before you read any further, I offer this program FREE to my preferred Real Estate Agents. There is no catch or fine print. I suggest that you turn off your cell phone and close your door for the next 15 minutes so that you can see exactly how this program will change the way you do business forever. Whether you are a Top Producing Agent looking to maximize your time or a growing agent looking to build your business without having to spend valuable time and money, you will see how both me and my program will add value to your business. Take a few minutes to watch this short video below and then give me a call at 303-501-1413 or send me an e-mail at jmassey@castlecooke.comto find out how you can implement this system and start growing your business.

Click Here To Get Access To This Technology And Start Implementing It Today!
MARKETING SYSTEM FEATURES
A complete professional property website

"Texting for" property info with call capture

Mobile phone website ZMLS.mobi included

Complete dynamic virtual tour created

Unlimited pictures, documents and medias

A complete showings feedback system

Quick and fast online printing of flyers

One-Click classified postings to Craig's List

Feeds to popular classified real estate sites

Easy to use online browser control panel

High quality PVC sign riders in 5 colors

24 hour access to all marketing information

Sell more, List more, Earn more!
After watching that video and seeing the list of features available to you, I think you can see that my goal for you is to help you grow your business. In return I'm hoping that some where down the road, you'll see enough value in what I am going to provide to you, that you will want to want to work with me. But first, I want to show you some results in advance, how it's going to get you more listings, get more buyers, and keep the listings that you have. To get started today on this FREE system, call me at 303-501-1413 or e-mail jmassey@castlecooke.com.

---
Still skeptical?

Let me show you one simple strategy that is just the tip of the iceberg of what I can do to help you. Want to grow double your business in the next 30 days? This simple strategy could do that for you:
Business Card Stickers

Simple Strategy:
1. Take 150 of your Real Estate business cards (per listing)
2. Peel and stick these stickers on the backside of your card
3. Give these to your sellers IMMEDIATELY after your listing goes live. Explain to them that you have already created them a website for their home and that you are going to publish their home all over the internet and you need their help getting this website (their home) out, and we like to start with all of the people they work with and socialize with...
(A great opportunity for you to showcase (a) your technology, and (b) your service to your sellers - no one else is doing this!!!) I GUARANTEE that you will get a buyer or seller referral from this technology almost instantly...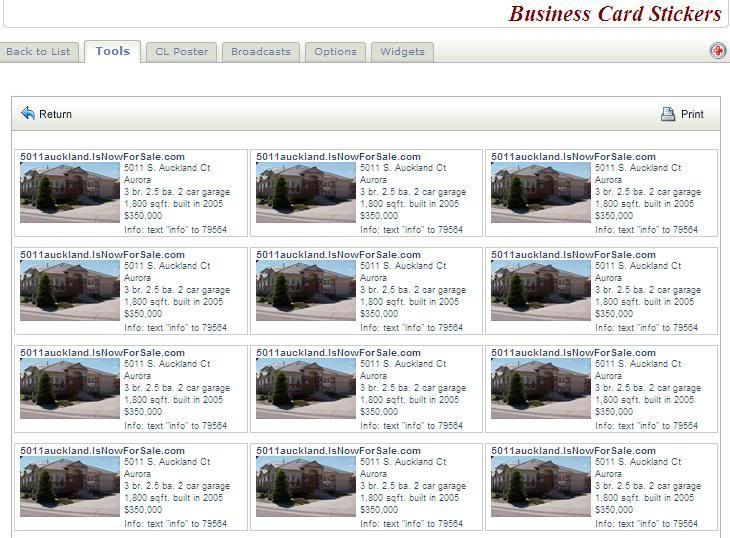 Call me for more information on how easy this technology is to implement.

Dedicated to your success!
Joe Massey - 303-501-1413 - jmassey@castlecooke.com
---
What about RESPA?
Joe - I thought that RESPA prevented mortgage companies from providing anything of value to a real-estate agent.
That is correct which is why we have met with several attorney's and have found a way to make this 100% compliant as a cost-sharing relationship which can thus be co-branded. The sign-riders which you will be adding to each of your listings with the text-capture information will serve as your portion of the shared marketing expense. Click here to learn more!